Wavelength is a great tool to communicate with people in your organization.
Anything that an admin can search, they can email. Click the email button on the sidebar and search for the characteristic that connects the recipients.
If an admin wants to email everyone in their organization, they search nothing (or press the "All" button on the Search card on the homepage"). If they only want to email people in the 2012 - 2015 classes for a reunion, they can search "2012-2015" and if they want to set up a happy hour for people in San Francisco, they can search "near San Francisco" to find people within 50 miles. Then they click the email button.
Note: if an admin were to search "San Francisco", their search results would include people affiliated in San Francisco like people that went to UCSF. Use "near" to only find people geographically. Trouble getting exactly who you want? Read more about Search Best Practices.
You will be redirected to an email type page. You have three options to choose from, Newsletter, Job Post, and Access.
Newsletter is your typical email. If you have a generic email you need to send, use this type.
Job post are emails that contain information about potential jobs. Use this type if you want to share your email with people interested in receiving these types of emails. Learn more about posting jobs here.
Access is your onboarding email. This type of email is an email sequence that invites people to Wavelength and grants them access.
Once you select which type of email, you will be brought to the compose screen.
Admin Edit Recipients

Click edit recipients to view and update the recipient list.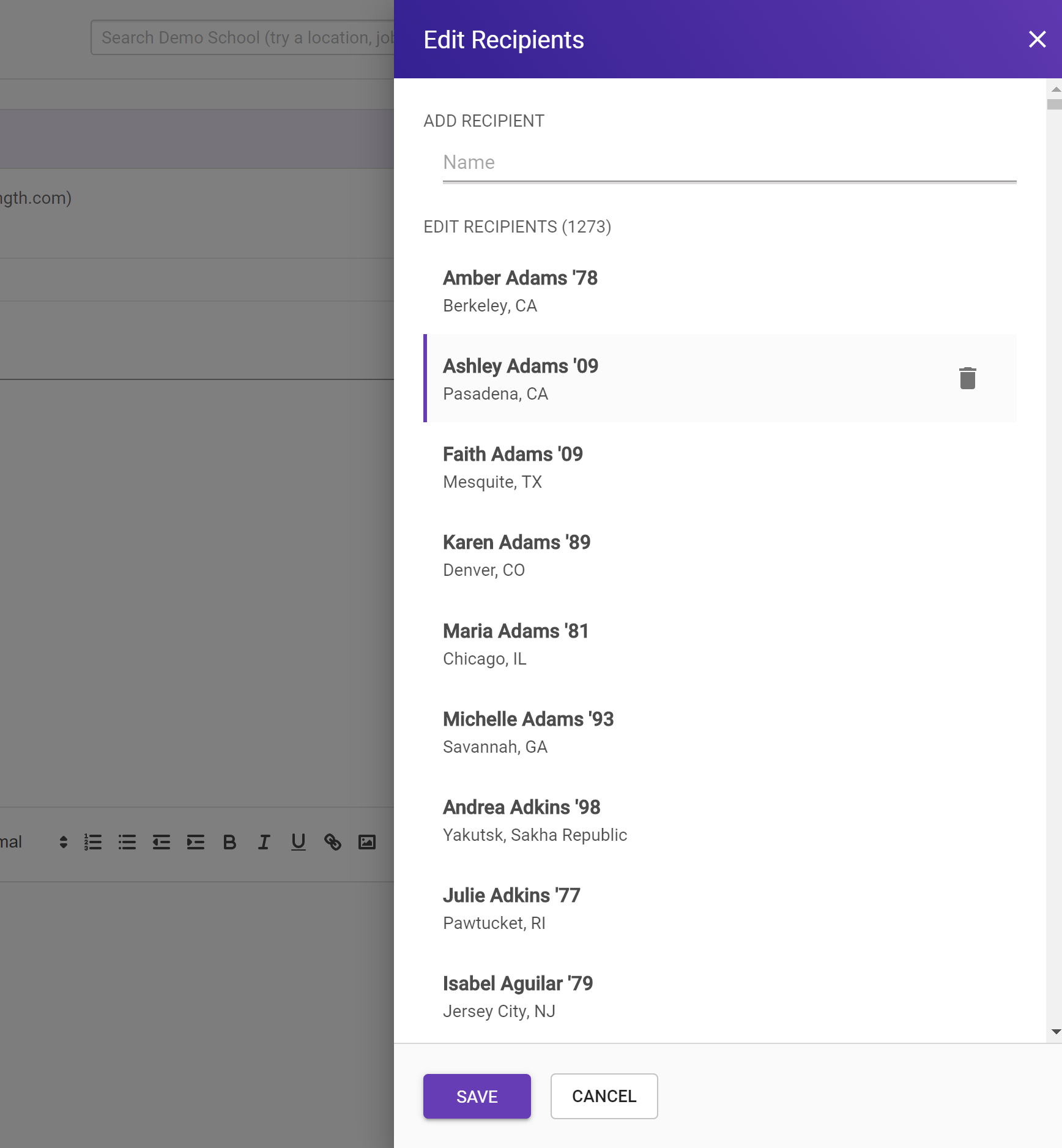 You can add people, delete people, and save the new recipient list.
Crafting a Message
You can then put a subject and craft your message, adding any images, formatting, or attachments that you want. When you are ready to send, click the "Ready to Send" toggle (an admin can be confident they won't send before it's ready!) and the send message button.
The message will be sent to all recipients. Recipients will be bcc'd.
What Alumni See
For admin emails, alumni see an email from their Wavelength organization name from the "[subdomain]@searchwavelength.com" account. The subject will be whatever the Admin set. So if Joe B sent an admin email from "Demo High School" with the subject "Annual Update" an alumni would see an email from "Demo High School" with subject "Annual Update". The help text would read: "Email from your alumni network: Demo High School [xx]" Where [xx] is the start of Joe B's admin email.
If an alum replies to the admin message, the admin email recipient set up during onboarding will get the message. Note that if the admin email recipient were to reply to an admin email, they would not receive the message because email providers have safeguards in place to stop infinite reply loops.